Chatbot surveys become successful only if you receive enough survey response rates to make solid conclusions. So, the next step is to follow some clever tips in order to increase the survey response rates. Don't worry, you've come to the right place. We have some super-useful tips for you to help you  increase your chatbot survey response rates:
Tip #1: Use "Buttons" Instead of "Quick replies" in the Opening Message
Everyone may not be familiar with chatbots when they start off with surveys and they might miss the quick replies on the bottom of Messenger. By using buttons you eliminate such risks and improve the chances of increasing survey response rates.
Tip #2: Keep it Visual ?
You can increase your chatbot survey response rates by using images to help explain your survey questions. Most of the time visual queues help communicate the question more quickly than plain text and this helps respondents understand and respond faster.
Tip #3: Re-engage with Respondents who Don't Finish
Send people a re-engagement message after a certain number of days if they do not finish the survey. You can automatically set this up from within Surveybot by going to the design section of your survey and clicking on the re-engagement tab.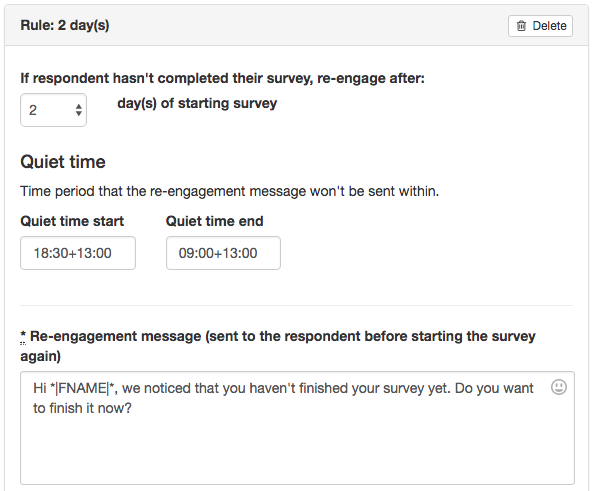 Tip #4: Send Chatbot Surveys during Peak Social Media Times
You want to invite people to take a survey when they are most likely to respond, such as when they are checking their social media to pass the time.
According to 
Sprout Social
, the best time to engage with people is between 9 a.m. to 3 p.m. Wednesday through Sunday. Statistics show the ideal time to post is Thursday at 1 p.m.
Use this knowledge when you select a time to schedule your campaigns on Surveybot and you will see an increase in your chatbot survey response rates.
Tip #5: Keep it Short
The optimal length of your chatbot surveys over messenger should not be more than 10-15 questions. This is because you want your survey to be conversational and badgering someone with too many questions will most probably result in an abandoned survey.
Remember, once you have started a messenger conversation with someone, you can always ask them more questions at a later date.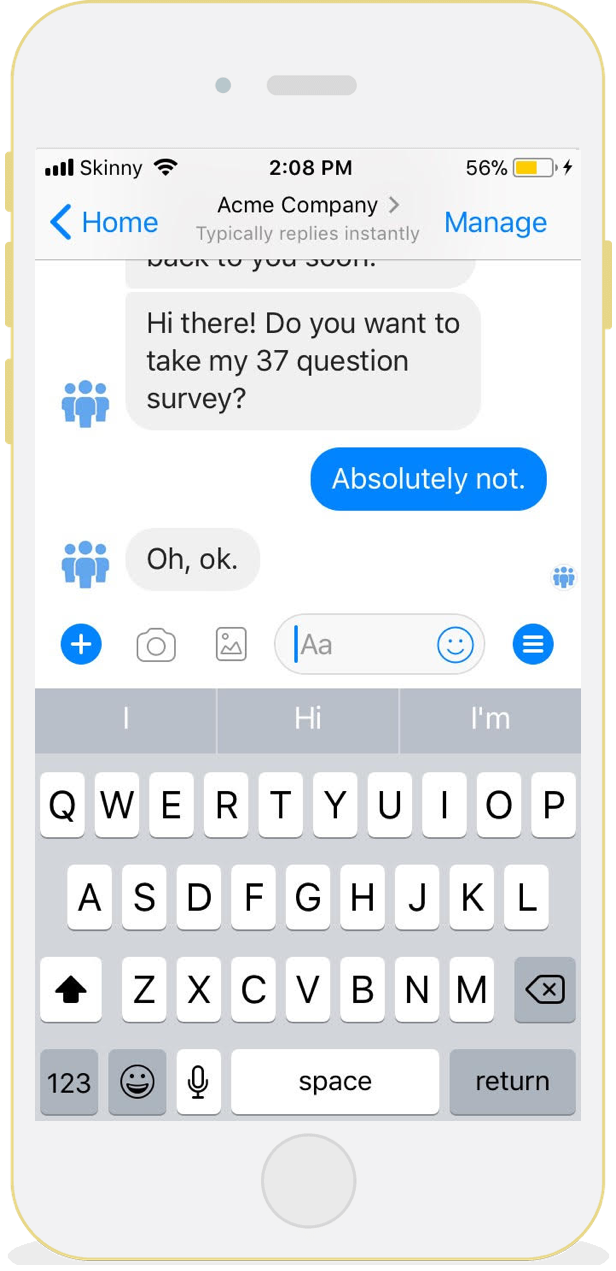 Tip #6: Be Upfront About the Length and Show the Progress of the Chatbot Survey
Be it 2 minutes or 10 minutes, do inform your respondents. It's better to be upfront about the time commitment rather than have the survey take longer than they expect. This may sound too simple a thing but it works wonders in increasing the survey response rates.
When you inform the respondents about the length and time of the survey, they'll be more inclined to fill your 
online surveys
, since they know how much time they've got to invest in it.
Also, make sure to motivate respondents by showing them their progress. This is easy to do by inserting the progress bar object into your survey during the design step.
Tip #7: Humanize your Chatbot Survey
Your respondents should feel like taking your survey is as easy as a conversation. One way to create this sense is by responding to the peoples' replies.
To do this, try using the answer piping* feature that can be found in the logic tab of a question when you create your survey.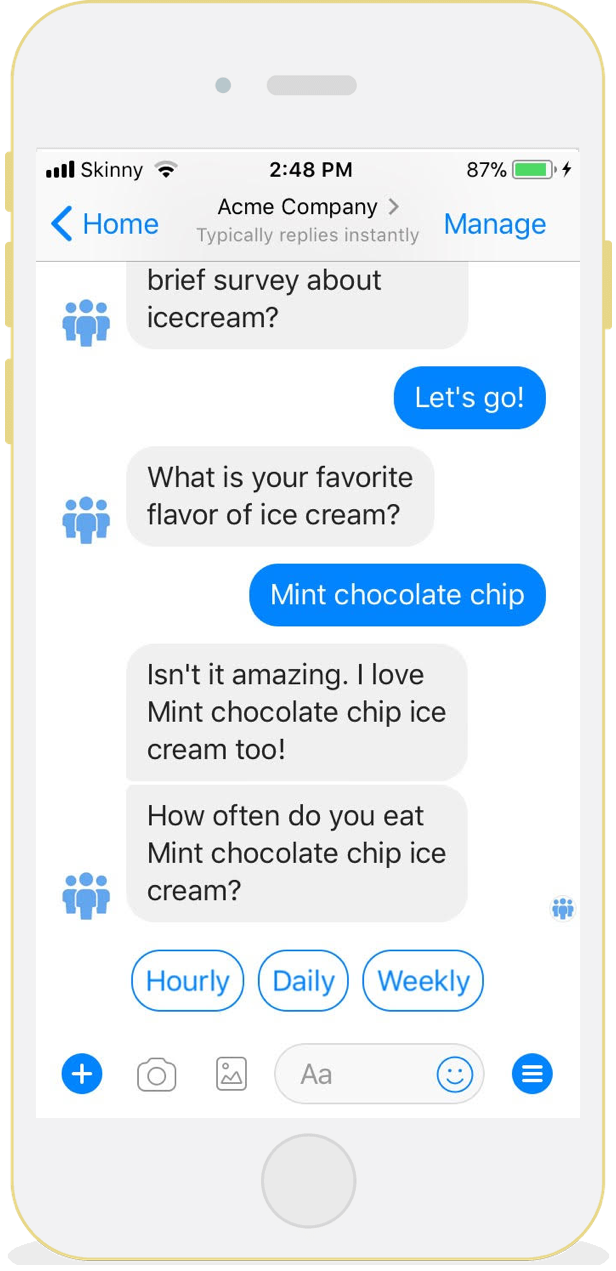 On average, Surveybot Users see Around 80% and Above Chatbot Survey Completion Rates.
Try out these tips now and increase your chatbot survey response rates.
If you are not already on Surveybot, it's the perfect time to start a free trial! You can find more information by clicking the button below.